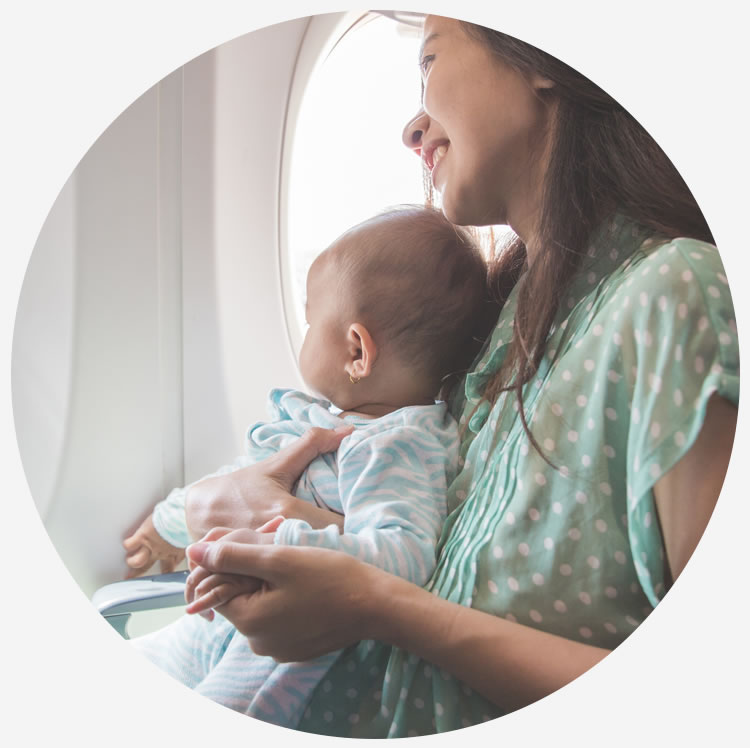 Infant (INF) 0-2 years of age
Your children are welcome on board Albastar flights! We will do our best to make you feel welcomed and comfortable, starting your trip with joy for the whole family.
If your child is flying for the first time, do not forget to ask the flight attendants for their "first flight certificate", which is something to cherish in the future.
A minor who is not yet 2 years old on the date of the flight is considered an Infant (INF). It is strongly recommended not to travel with infants under 2 weeks of age.
An infant travels without occupying a seat and is accompanied by someone older than eighteen years.
An infant does not occupy a seat and must be seated on an adult's lap during take off and landing upon payment of a special fare to be determined on the basis of the chosen destination and flight period, and may not have any supplementary baggage other than that of the person travelling with them. An adult passenger may only travel with one infant.
Infants have no baggage, but their pushchair can either be kept until it is time to board the aircraft or it can be sent along with the rest of the luggage. The pushchair can be picked up at the baggage claim area or at some airports, directly on the apron on arrival at destination. Pushchairs are carried free of charge.
Parents can bring onboard a diaper bag free of charge including baby foods to be used during the journey
Medicine needed during the flight must be accompanied by a prescription.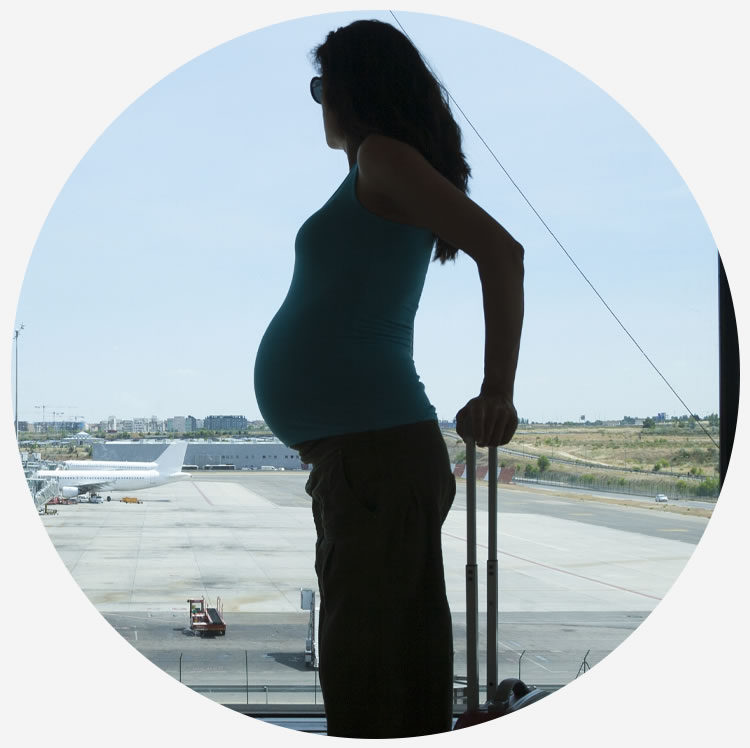 One of the most frequent questions that future mothers ask themselves when organising a trip is: "Can you fly while you're pregnant? How far into pregnancy can you fly?" If the pregnancy is normal and is not in the last weeks, there is no reason why you should not be able to fly. We recommend you see your doctor before booking and flying, we will do everything to ensure you have the best possible flight experience.
During the last four weeks of pregnancy prior to confinement (normally as from the 36th week) an expectant mother shall not be accepted for carriage by air under any circumstances.
However, when the expectant mother is more than 32 weeks pregnant but less than 36 weeks, she must present a Medical Certificate stating that pregnant passenger is fit to travel and sign a Liability Release.
Multiple uncomplicated pregnancies: after 28 weeks but less than 32, requires the presentation of a Medical Certificate stating that she is fit to travel and a Liability Release has to be signed. Pregnant passengers shall not be accepted after 32 weeks of pregnancy, even if they present a Medical Certificate.
An expectant mother with a complicated pregnancy shall not be accepted to travel, even if she is holding a Medical Certificate.
Expectant Mothers Passengers should only be accepted for travel if the date of their return journey does not exceed these limits.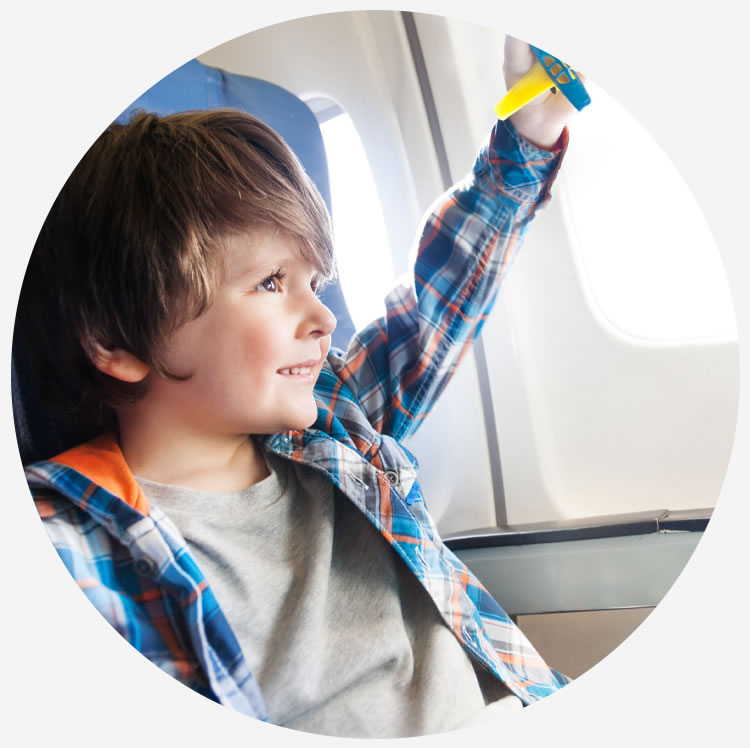 Unaccompanied Minors (UM)
Many people panic at the idea of their child flying alone. In fact, it's not an easy decision for a parent, but sometimes it's not possible to accompany your child during a trip. We at Albastar will do everything possible to welcome and pamper your child, making them feel safe and secure, as if they were at home. And once on the ground, they will be accompanied straight to the waiting relatives.
A minor travelling not accompanied by an adult is defined by the term "Unaccompanied Minor" (UM) and must travel under the custody of the Airline. Children under the age of 5 are not allowed to travel unaccompanied.
An Unaccompanied Minor service is available for children aged between 5 and 11.
Children between the ages of 12 to 16 years are considered young passengers and do not travel under the custody of the Airline, unless otherwise requested by their parents.
For departures from Italian airports, the unaccompanied minors assistance service is required for passengers between the ages of 5 to 14 years.
If you would like information or wish to book the Unaccompanied Minor service, contact the Reservations Office or the travel agency that will contact the Airline to communicate the personal data of the person who is accompanying the minor to the airport and of the person who is collecting the minor at the airport on arrival. The Reservations Office and/or the travel agency shall provide all the necessary instructions concerning the procedure for Unaccompanied Minors and the payment of the relevant service.
The Unaccompanied Minor must arrive at the Airline's check-in desks at the airport of departure at least 2 hours before the scheduled departure time. Failure to do so, the Unaccompanied Minor service will not be guaranteed and there will be no guarantee of boarding or departure. In these cases, the price of the ticket and of the Unaccompanied Minor service shall not be refunded.

For information and reservations, contact our call center:
Monday - Friday: 9 am - 1 pm and 2 pm - 6 pm | Saturday: 9 am - 1 pm
or fill in the form with your requests.
Excluding Italian public holidays. The telephone number is not a premium rate number.