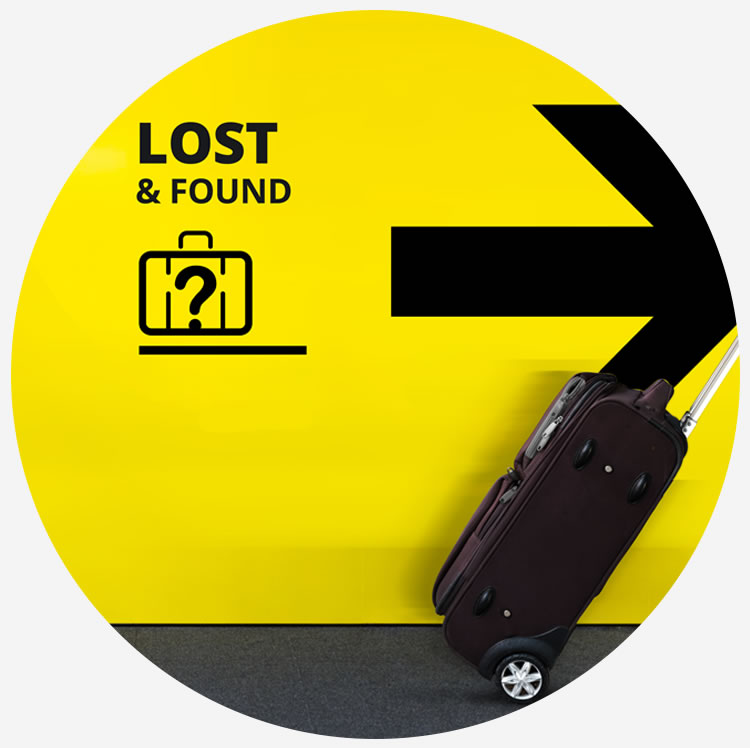 WHAT TO DO IN THESE CASES
Has your baggage been lost or damaged during the flight or boarding and/or disembarking operations? Don't worry, we are here to give you all the necessary assistance and help you solve this unpleasant situation.
In case of loss, damage or tampering of baggage, the rules set forth in the Montreal Convention of 1999, Regulation (EC) 2027/97 as last amended by Regulation (EC) 889/02, apply.
The Passenger is required to fill in the appropriate PIR (Property Irregularity Report) at the "Lost & Found" office at the arrival airport.
To open the claim with the Carrier, the Passenger must transmit the documentation indicated below in order to provide proof and determination of the damage.
In case of delayed delivery or loss of baggage, within 21 days after filling in the PIR or from the effective date of delivery of the Baggage.
original copy of the PIR (Property Irregularity Report);
original copy of the Baggage Receipt and copy of the Ticket;
a detailed list of the contents of the lost Baggage and their value, date and receipt of purchase;
original receipts for expenses incurred for the purchase of basic necessities.
In case of damage or tampering, within 7 days from making the complaint:
original copy of the PIR (Property Irregularity Report);
original copy of the Baggage Receipt and copy of the Ticket;
list of missing items with indication of their weight;
type and brand of damaged Baggage with indication of the value and date of purchase, together with a photograph;
original repair receipt or a statement of the seller certifying the impossibility to repair the baggage.
In both cases, the Passenger must indicate name and surname, complete address and telephone number, as well as bank details for any compensation (IBAN code, BIC – SWIFT codes and name of account holder).
All the documentation must be sent by filling in the form below in full or by registered post to the following address:
Albastar CENTRAL LUGGAGE
AIRCOMP, S.L.
ALBASTAR – CENTRAL DE EQUIPAJES
Apartado de Correos 5366
E-07011 Palma de Mallorca
Isole Baleari – Spagna
lostandfound@albastar.es
For further information please contact our dedicated team by filling in the form below, and selecting the Request for information field.

For information and reservations, contact our call center:
Monday - Friday: 9 am - 1 pm and 2 pm - 6 pm | Saturday: 9 am - 1 pm
or fill in the form with your requests.
Excluding Italian public holidays. The telephone number is not a premium rate number.