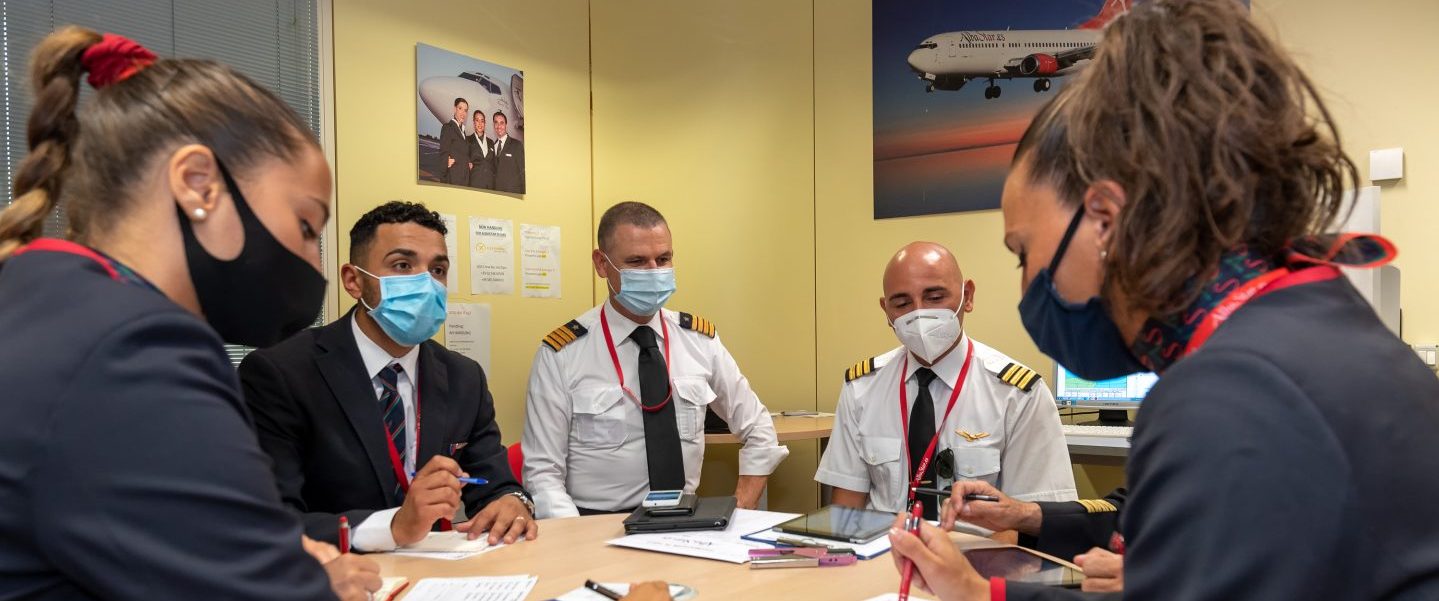 You can return to fly safely because we are committed to it every day!
We guarantee our passengers the respect of strict regulations to allow you to fly in tranquillity.
To return to get you travel in total relax, we have adopted a series of useful preventive measures to safeguard your well-being as well as for our crew!
You can find out all you need to know about these precautions and what you should be aware of in order to protect yourself here #Becausewecare
And remember… Behind the face mask are the pride and the happiness of being chosen to take you to your holiday destination!
TRAVEL RESTRICTIONS DUE TO COVID 19

Information regarding specific travel restrictions can be found here (IATA), here (EASA) and here (European Union)
We remind you that to enter in some Countries it is mandatory to complete the self-certification form, for each passenger and each leg of the journey. All forms must be completed before travel, we recommend arriving at the airport with the forms already printed and complete.
Failure to complete all the required field of the form or the presence of non-compliant declarations will result in a boarding ban or denied entry to your destination.
We remind you that it is your responsibility to continually check the websites of the relevant Authorities to receive the most recent government information.
From 1st of September till 31st December , Covid certification "green pass" is mandatory to travel on domestic and international destinations, where green pass is accepted.
For more information:https://albastar.es/en/country-specific-self-certification/
FREQUENTLY ASKED QUESTIONS
Do I need to wear a face mask?
Face masks are mandatory for both passengers and crew members,we kindly ask you to bring your own face mask (face masks are not accepted on board only medical masks are permitted). Make your sure you have enough masks for the duration of your trip according to the manufacturer instructions.
Children under 6 and those having a medical reason for not wearing face masks can be exempted.
What will happen if I don't wear a mask?
You will not be allowed to board without wearing a face mask.
On board service:
No duty free or other non-essential product sales on board.
Food preparation will not be carried, If any, only pre-packaged and sealed food will be available on board.
Special dietary requirements or allergies will not be catered.
Pillows and blankets cannot be supplied to passengers.
Food for infants is permitted on board
Protection in the aircraft cabin:
All our modern fleet are fitted with the latest air filtration technology. The HEPA filters are effective at capturing close to 100% of airborne microbes – including bacteria and viruses – and have similar performance to those used in hospital operating rooms.
We've introduced enhanced cleaning procedures and carry precautionary kits on all our aircraft.
Social distancing:
Please respect social distancing guidelines indicated by the cabin crew members  in our aircraft. Take attention to all announcements onboard.
Arrival in the airport and check-in:
Do not show up for flight if you show any symptom, you and those travelling with you may be refused to travel, Airport staff our ground operations supervisors and cabin crew have been trained to implement strict rules and procedures for suspected cases on board.
If you have symptoms of Covid-19, do not go to the airport and contact us.
Please allow extra time at the airport, boarding times can be increased due to COVID measures, Ensure you are not checking-in devices with lithium batteries.
Hygienic measures during your trip:
Hand hygiene practices:Hand hygiene is extremely important to prevent the spread of the COVID-19 virus
Respiratory etiquette : Cover your nose and mouth when coughing or sneezing. Do this either with a tissue or your inner elbow. This is the single most important thing you can do to stop the spread of disease.
Boarding:
Boarding will be performed in small groups, unfortunately boarding process can take more than usual.
Use of toilets:
Due to safety measures one of the toilets is blocked for crew use only.
Soap is available in the aircraft toilets wash your hand with soap after using the toilets (soap is the most effective way to remove the novel coronavirus).